Top 6 Company Qualities to Deliver Successful Events
Meeting and exceeding a client's expectations are the keys to a producing a successful event. Are you receiving or displaying the "you first" attitude?  We have gathered the top SIX must-have qualities that a production team should exhibit to deliver successful events and exceed expectations.
1. Listening & Communication
The account manager should possess the ability to understand the goals and objectives of the event while staying on brand and within budget parameters. The production manager should communicate the expectations in clear and concise language to everyone on the technical team. This ensures that the goals and vision of the event will be consistent and the event expectations can be met.
2. Organizational Skills
The production team needs to stay on schedule, keep budgets in check, and communicate details efficiently and quickly. They should have worked out the "what ifs" and identified possible problems in the pre-planning stage, so they are ready for any scenario once onsite. The team should be able to multi-task and prioritize.
3. Resilience & Adaptability
The ability to "go with the flow" and understand pivot and change in the planning process and onsite with a cool, calm, and collected demeanor is essential for a production team. Changes happen all the time, and the ability to think quickly and adapt is a must.
4. People Skills
The account manager, production manager, and team need to work and think on behalf of the client/brand. They need to be comfortable and have the ability to successfully work with high-level executives, staff, and event attendees. The account and production manager need to nimbly resolve conflicts, be a confident and pleasant negotiator, and maintain a sense of calm and humor.
5. Passion
A passionate production team will display creativity and inspiration throughout the planning process and onsite. They will have ideas to not just "do" an event but make that event great. They should constantly be thinking of the stakeholders and attendees to make sure their experience is memorable, exciting, and on-brand.
6. Experience
The team that is hired should have a significant amount of experience. It take time to learn all the challenges that virtual, hybrid, and live events present along with the knowing all the technical gear. Experience allows for decisive decisions that carry weight, creativity, and quick resolutions.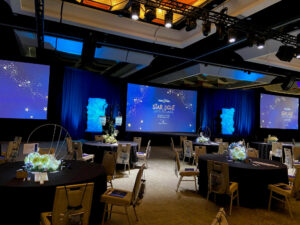 Here is what one of our clients has to say:
MPG Productions far exceeded my expectations for our first hybrid event! Wish Ball is our largest and most important fundraiser each year and is crucial to our fundraising strategy. Cindy handled everything flawlessly from start to finish – her expertise and exceptional customer service let me rest easy knowing everything was handled. Leading up to our event, Cindy made my team feel very comfortable with how all aspects of the hybrid event were going to run. In the ballroom – the sound, screens, lights, and stage were beyond impressive. Cindy and David managed everything perfectly. This year, we added tech rehearsals to make our on-stage talent more comfortable, and their help in executing those was appreciated. We received compliment after compliment of how well it was running for our virtual participants at home throughout the event. MPG pulled off two fabulous event experiences for our donors simultaneously – they really are the best of the best. We will be able to grant hundreds of wishes to Arizona Wish Kids thanks to the help of the MPG team!

Anne Carman, Director of Events
Make-A-Wish Arizona